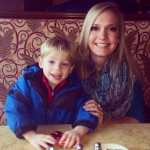 As the end of the school year approaches, soon-to-be graduates begin to take their last steps as college undergraduates.
Throughout the year, a number of students in the class of 2014 stood out more than all the others; Jessica Merkt is among that population of outstanding students.
In 2011, Merkt graduated from Fort Zumwalt South in the top 25 of her class with a 4.4 GPA. She was in the student council and a member of the National Honors Society.
Merkt said her passion for education only increased as she entered college, despite the event that changed her life, and plans, forever.
"When I was halfway through my junior year, I found out that I was pregnant and would be due in October of my senior year of high school," Merkt said.

"Like any other soon-to-be teenage mother, I was terrified and had no idea what to do. When I first found out I was pregnant, I feared that I wouldn't be able to attend college and I would have to settle for a minimum wage job for the rest of my life, Merkt said.
"I also worried that I would not be a good mother because I was so young and had little experience with kids other than babysitting my neighbors. My
saving grace

was my amazing and supportive family and friends."

Regardless of the stereotype that is placed on teen mothers, Merkt said she remained focused and determined to make her situation the best experience possible. With the help and support of the people around her, Merkt said she did just that.
After having her son, Landon, Merkt said she made the decision to attend Lindenwood University instead of Mizzou, since Lindenwood is only 15minutes from her home.
"While I am at school, Landon attends a daycare called HOPE Ministries, which offers low cost daycare to teen mothers that are choosing to pursue their education," Merkt said. "HOPE has been a godsend and one of the main reasons that I am able to attend school."
While Landon is at daycare, Merkt said she focuses on keeping her 4.0 GPA and plan of graduating college in three years. However, Merkt said this lifestyle demands a strict routine.
"Graduating in three years has been tough," Merkt said.
"There have been a lot of all nighters and sleep deprivation. I practically run on coffee. My 21 credit hour semester was a killer.  On a typical day, I wake up at 5:30 a.m. to get myself ready. Then, I wake Landon up at 7 a.m., get him dressed and feed him breakfast. Then, I take Landon to daycare and head to Lindenwood. I usually am either in class or work and learn from about 9 a.m. to 3 p.m. Then, I pick Lan up from daycare, feed him dinner, play with him and put him to bed around 7:30 p.m. Then, the homework begins."
Curtis Billhymer, a public relations professor at Lindenwood and one of Merkt's favorite teachers, said that Merkt is a student that is consistently standing out.
"Jessica [Merkt] is a good example of that rare individual who defies the odds, chooses to create for herself the discipline necessary to realize her strengths – to create her own opportunities and make the most of them," Billhymer said. "To be old fashioned about it, she has character."
Apart from taking classes, being a mother and working a part-time job, Merkt also works in the Career Center at Lindenwood.
The Director of the Career Center, Dana Wehrli, said that Merkt is an outstanding individual.
"I have known Jessica [Merkt] for the past three years. I consistently find her to be extremely conscientious, mature, bright and personable. As a student worker in the Career Center, I observe Jessica to be eager and willing to give 110 percent to all tasks and projects assigned," Wehril said.
"She has consistently been on the Dean's List and further demonstrated a commitment to her professional goals by completing a summer internship with Ronald McDonald House Charities. Overall, she is an outstanding individual. Her organizational and analytical skills are exceptional. Jessica's interpersonal skills are well developed and her ability to conduct herself in difficult situations is admirable."
Friend and roommate Jennifer Nickerson said she is constantly inspired by Merkt.
What the future holds for Merkt
Merkt will graduate this May and go on to intern for Think Tank, a public relations and marketing firm based in Glen Carbon, IL.
However, Merkt said her dreams do not stop there.

Even with her past life experiences and obstacles, Merkt said she knows that her future is bright for her and her son and as long as she has her loyal and loving support system, she said she can handle anything.
As for Merkt and her son, she said that his happiness and their relationship are most important.
"I want the kind of life for my son that I had growing up, minus the surprise pregnancy," Merkt said.
"I want him to be able play any sport he wants, pursue any hobby he would like and go to any college he wants. I want us to always be close. The biggest thing I want Landon to be able to do is pursue his dreams and value education as much as I do."
feature photo credit: 

kickofjoy.com